Don't Use The Yellow Pages or YP.com – PLEASE!!
The Yellow Pages is now YP. BUT, it's not owned by AT&T any longer. In April of 2012 AT&T sold a majority stake in its Yellow Pages (print edition and online) to Cerberus Capital.
"The sale is part of a strategy of AT&T to jettison shrinking parts of its business to focus on segments that are growing, particularly its wireless business."
Why? Revenue had shrunk 30% in two years. So, what does this tell me about using YP for advertising. Well, if AT&T, one of the most successful companies in the world decides to dump them, I take that as an indicator that I should too. Dumped.
So, what about the online YP.com site? Let's look at what they have to offer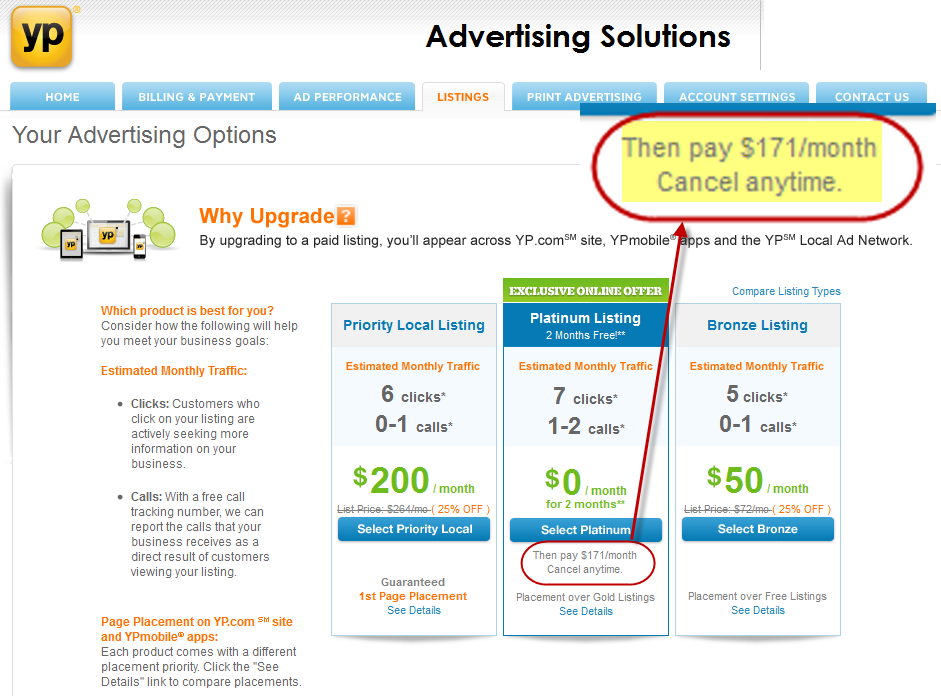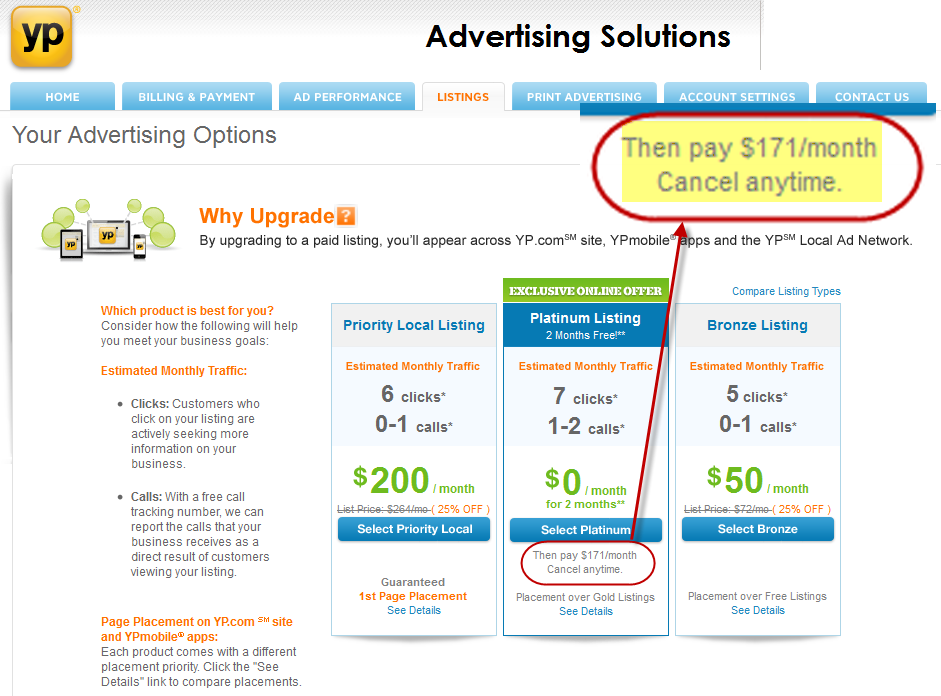 Well, there's 3 basic plans, Bronze, at $50 a month, Platinum, at $171 a month, and Select Priority Local which is $200 a month. Not too bad prices. Any business should be willing to spend that amount of money in advertising. BUT, what does that get you?
Look closely just above the green prices and you'll see either 5, 6, or 7 clicks, and anywhere from 0 to 2 calls a month. OK, let's compare that to Google Adwords. As an example, a dentist will pay less than $10 per click for the top local keywords in their industry. A land surveyor will pay about $4 a click for the top local keywords. So, ALL of these plans are way overpriced. Clicks are much less expensive than YP.com is trying to get from you. And, what kind of "estimate" is 0-1 call? For $200 I get about 6 people clicking through to my website and I may or may not get ONE call.
Also, don't be fooled by the "1st Page Placement" hook. This is ONLY on the YP.com owned sites, NOT Google, where you have to be. YP.com owned sites also sell the same advertising to ALL of your competitors.
Now, what if you could get 100-200 people, or more, every month to your website? AND, what if I could show you a way to get your phone ringing multiple times a week. What would that be worth to you? Well, at YP.com's prices, they would charge well over $1,000 for numbers like that. (In fact, I know a dentist friend who was paying $1400+ a month and had only gotten 6 calls in the last 6 months.)
Now, be sure to sign up for your FREE listing on YP.com. They're worth everything you pay for them.
Call Keith at (205) 736-7771 before you talk to your YP.com representative this year. OR, call me right after you talk to him or her and let me help you review what they're proposing. I guarantee I get you MUCH better results than they're proposing.
This guy asks the important question, in my opinion.
And again, people on the street on Google vs Yellow Pages.