Resources for Land Owners and Real Estate Professionals
Alabama Law Regulating the Practice of Land Surveying
Alabama Law Regulating Land Surveying Practice within Alabama – Administrative Code 330-X-14
Alabama Standards of Practice for Land Surveying – ASPLS
Alabama Septic System Links

Qualification Based Selection (QBS)
In the above Administrative Code, the law states: (emphasis added)
(f) The engineer or land surveyor, shall not participate in or implement procurement practices (bid submittals) which do not first determine the qualifications of the engineer or land surveyor prior to entering into fee negotiations for services being sought. An engineer or land surveyor having submitted a statement of qualification and performance data, and having first been judged as the qualified individual or firm to provide the services required for the proposed project, may proceed to negotiate a contract with a client and establish compensation or fees for the required services.

Should the engineer or land surveyor be unable to negotiate a satisfactory contract with the client for any reason, the engineer or land surveyor shall withdraw from further consideration for the engineering or land surveying services. Another engineer or land surveyor may then be selected for negotiations of a contract for the services on the stated project.

Examples include but are not limited to, simultaneous negotiations or solicitation of fee proposals by the client from two or more engineers or land surveyors constitutes "bidding" and participation by a licensee is prohibited.
and further:
(a) The engineer or land surveyor shall not:

14. Participate in procurement procedures for engineering or land surveying services either by providing the bids or in requesting bids from other professional engineers or land surveyors where bidding is the primary consideration.
As I hold both an Engineering license and a Land Surveying license from the Board of Licensure, this law regulates my consulting practice from two sides.
Participating in practices that will subject me to unusual scrutiny and/or investigation by the Board puts me in jeopardy of fines and possible revocation of my licenses.
While our Professional Societies are debating with the Board at this time about excluding a certain dollar amount from the QBS stipulation (as it is in the Federal Law) the current law does not allow me to provide a "Bid" for a project when one has been requested from another professional.
Therefore, my submittal of a price to you SHALL be with these facts in mind. And my understanding is that you are satisfied with my qualifications to perform the work you requested. Further, you have chosen to enter into a discussion of fees with me, excluding discussions with any other professional simultaneously. If you decide that my fee estimate is unsatisfactory, you are encouraged THEN to speak to others.
Additional Materials from the Board of Licensure sent to Engineers & Land Surveyors:
Other Resources:
"Know Your Boundaries" Handout for Landowners – Know-Your-Boundaries
The following is the Fast-Good-Cheap Triangle for Explaining Professional Services. As Engineers and Land Surveyors we are not allowed to "INFERIOR" work so you HAVE to choose Good and one more.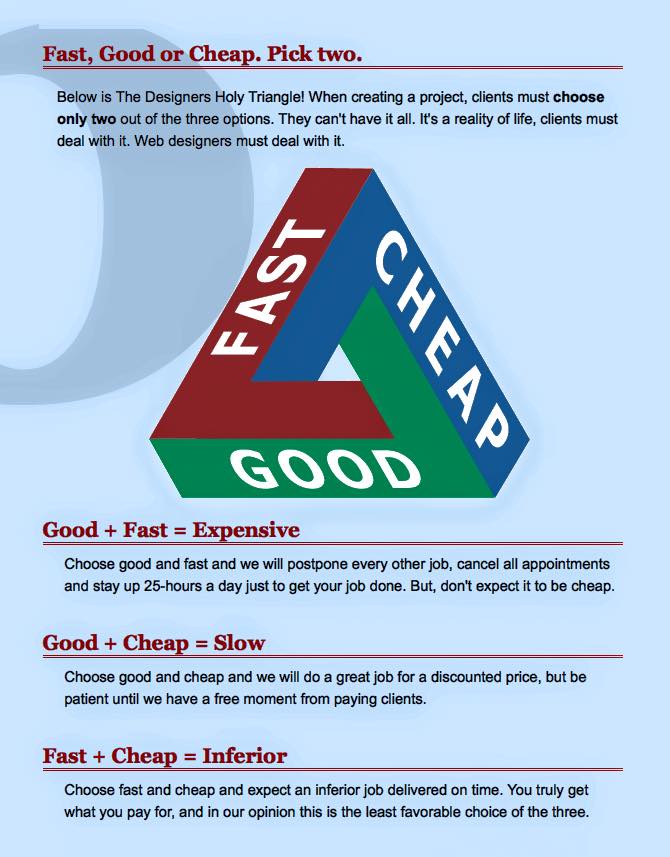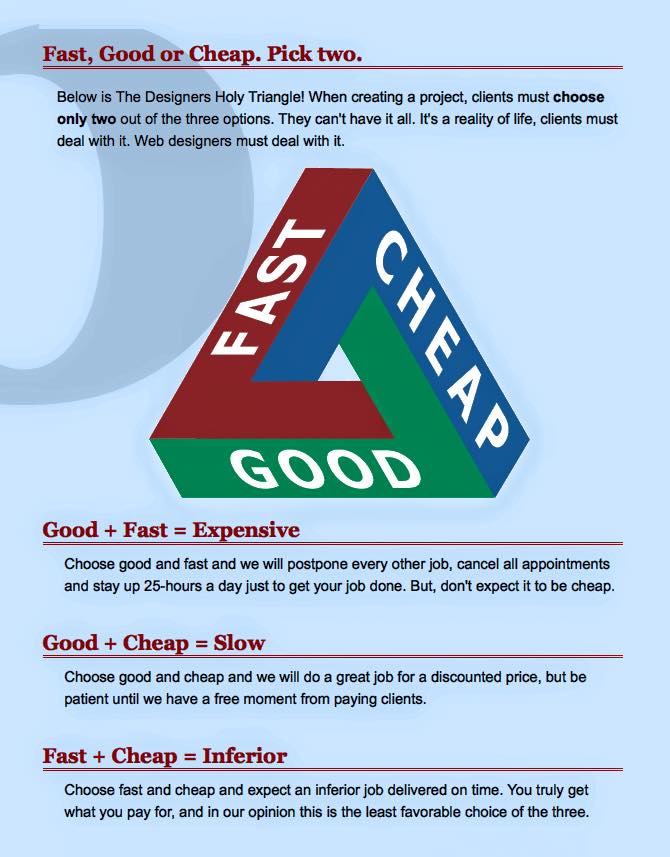 Tennessee Fence Laws Handout– The law may not be written or interpreted exactly the same in Alabama but this is good information about fences and boundary lines.
Alabama County Map with County Seats